I welcome to the site our first

Dapper Dane

: Chris Bissonette of Buffalo Dandy.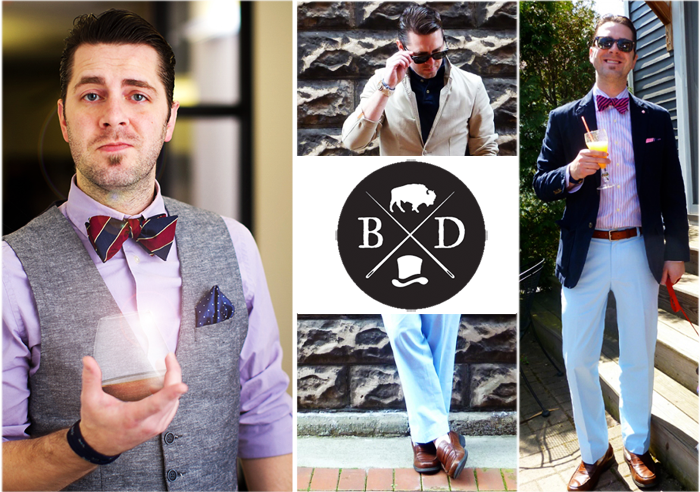 Chris is a fashion/lifestyle blogger from Buffalo who supplies his readers with everything fresh, sophisticated, classy, and of course
dandy
. I first stumbled upon Chris's
blog
during one of my late night browsing sessions and was completely enamored not only by his sense of style, but the content he supplies on his site. Chris is the perfect example of the modern day dandy, mixing old and new together cohesively.
Browsing through his blog, one thing stood out. This gentleman is definitely all about details and accessories; known to pair his outfits with unique quirks like
print bow-ties
, brightly colored
shoelaces
, and the quintessential
pocket square
. Some of the items Chris sports are even made by the man himself, like this
army fatigue bow-tie
that I am dying to replicate.
I couldn't think of anyone who could give us more insight on who Chris Bissonette is more than Chris himself; So I caught up with Chris for a little Q&A !

Q: Tell us something about yourself we wouldn't know from your blog.
A: I often speak in movie quotes, and subsequently can insert a Star Wars quote into any situation.
Q:What 5 words would you use to describe your personal style?
A:Classic, preppy, modern, confident and of course Dandy
Q:If you could raid any dapper dane's closet, who would it be?
A:Jay Gatsby
Q:What are some of your favorite blogs of the moment?
A:I've really been enjoying valetmag.com lately. I love the layout and design of the site along with the breadth of topics they cover. It's a great one-stop online style magazine.
Q: Where do you pull inspiration from?
A: Fashion magazines and sites like Tumblr are a great starting off point where I get initial style ideas, but then I try to put my own twist on them. A lot of things I write about on the blog come from my own experience or things that I'm currently looking for. I've often found myself unable to find specific things I'm shopping for, so when I do find them I want to share that with readers who may be in a similar situation.
Q: Do you have any quick tips for the readers on ways they can revamp their style?
A: Get an idea of what you want your look to be and use that as your starting point. From there, buy a few items that go with anything that you can start mixing into your regular wardrobe. However, be wary of trends or you may end with a closet full of stuff you loved one season but hate the next. That's why investing in classic items that never go out of style is so important. Not to say that your entire wardrobe needs to be made up these items, but they are a solid base for an outfit. Also, one of the quickest and easiest way to revamp your personal style is to accessorize. A simple pocket square, colored laces, bright socks or a bracelet or two can change the whole look of an outfit. And the right shoes can make or break an outfit.
Q:Current Song Stuck in your head?
A:I'm getting into the Summer state of mind and have been re-listening to Dirty Gold's "California Sunrise" nonstop.
Q: Now, the age-old question ….. Bowtie or Tie ? Why
A: I love and wear both. Bow Ties have such a care-free attitude about them that takes a level of confidence to wear and is almost like a badge of honor. However, I will always love how a necktie frames the body. Plus you can always add a tie clip to a tie.
Chris effortless style and vibe is cohesive with everything The Dapper and Dandy stands for which is what makes him a perfect pick for the first Dapper Dane. We strongly advise you to check out his blog, you can also find him on
Twitter
&
BlogLovin
' as well

BlogLovin
|
Twitter
|
TheDandyDame
|
Tumblr